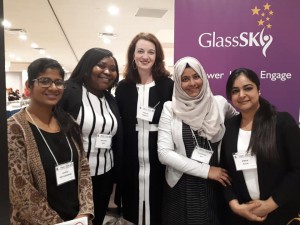 At GlassSKY, we love to work with people who are passionate about building modern and inclusive workplaces. Our clients are breaking the mold and we are helping them ignite the change. Whether it's by educating management on diversity trends, equipping career starters to succeed, or building a business case for a new mental health wellness program – we are passionate about helping our next generation rise up. In addition to our professional development series, and our research activities, we take on some pretty phenomenal clients and a few special passion projects each year with leaders that are constantly pushing their organizations and industries beyond the status quo.
Our Phenomenal Clients
Our clients are building business cases for digital HR to remove bias in recruiting, cultivate stronger relationships with candidates early in the pipeline, and connect students to work experiences faster. They are revamping their health and wellness programs to attract and retain the next generation of employees. They are engaging in meaningful focus groups to understand what their Millennial and Gen Z employees really want in a work environment. They are creating modern in-store experiences for the rising Millennial consumers who are poised to spend $200 Billion over their lifetimes. They are boosting analytics to predict workforce trends, forecast costs and optimize operations. They are auditing their diversity programs and building relevant opportunities for education and inclusion that keep top talent attracted, retained and engaged.
Our Role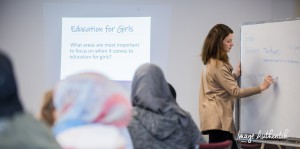 We dive deep into these organizations and become a temporary extension of their team, helping these organizations harness the ideas in their teams, research the landscape, identify where they should be operating, build their business case for change and tell their stories credibly and effectively – inspiring employees to embrace change and compelling senior management to invest. We help them set realistic goals, identify milestones, and track accountability and progress. We also use our lens of diversity and global perspectives to make sure that plans are inclusive and resonate with all audiences.
We do this through a highly collaborative and engaged approach that blends strategic communications, change management, accountability frameworks, and business acumen. Robyn leads this process directly, using her formal education in journalism and psychology, combined with 20 years as a communications and HR executive in leading global organizations. The approach delivers a compelling and effective solution, and in the process, aligns internal stakeholders on key messages, teaches them change management principles, and boosts their confidence as spokespeople. Our extended team of experts include creative designers who have worked for some of the largest public and private companies in North America, market researchers, process design experts, data analytics pros, corporate social responsibility experts, translators and copy writers who share our passion for working with progressive clients who want to positively change the world.
Award-Winning Work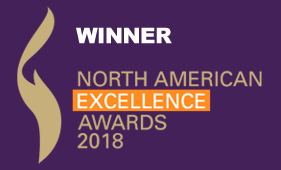 We also do pro bono work for worthy causes, like women in politics. Most recently, our Women for 50% campaign, executed in conjunction with Janice Brown Design and Innovatia, won small-budget Campaign of the Year by the North American Excellence Awards – a global competition by Communications Director Magazine that recognizes the most outstanding achievements of communications professionals in their field. We are proud that our work ranked top place in its category and was recognized alongside major global agencies like Fleishman Hillard, Edelman and Weber Shandwick.
Who We Work With
C-Suite
We work with CEOs to drive alignment on strategy and build compelling stories that everyone can share confidently and consistently. We work with Chief People Officers, Heads of Strategy, and Vice Presidents of Public Affairs to tap into their team's innovative ideas, illuminate new opportunities, and capture them for strategy prioritization and investment. We work with Heads of Diversity to bring expertise to augment their programs, build the business case for investment, and deliver workshops. We also tap into our global network of trainers and organize full-day events on site or off for valuable networking, learning, and thought leadership. We were very pleased to be engaged to help plan and deliver training at first-ever Women in Leadership events kicked off by major brands like Hyundai Capital in California, Banfield Pet Hospital (a Mars Company) in Vancouver, Washington, JD Irving in New Brunswick, Canada, and Correctional Services Canada.

Emerging Leaders
Companies hire us to work with their emerging leaders as they step into new roles, take on stretch assignments, or even prepare for their first major presentation to Senior Management or a Board. We offer strategic advice and counsel by phone, skype or email to support emerging leaders as they are grappling with the new situations and environments they are encountering as junior executives. We help them prepare and put their best foot forward, which boosts engagement and accelerates results.
Industry Associations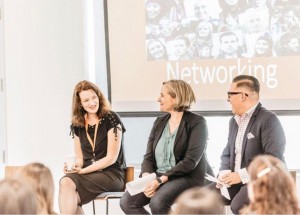 We also work with industry associations – representing nurses, engineers, environmental experts, economic development and academics – to help them engage their membership with valuable industry-wide insights and professional development at conferences.
Global Perspectives and Thought Leadership
We believe that staying current and networked with our world's thought leaders is important. It ensures our clients have access to best practices and leading-edge thinking. GlassSKY actively participates in global conversations and conferences with the foremost thinkers in their field.
Contact us to discuss your special project.