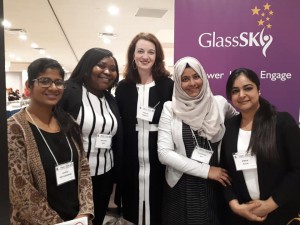 At GlassSKY, we love to work with people who share our passion for building modern and inclusive workplaces and communities. We re-invest a significant portion of our profits to help advance diversity and female economic empowerment, and to help build stronger, more inclusive communities.
Why Female Economic Empowerment?
Helping women achieve financial independence is key to raising our global living standards and to building stronger economies. Studies show that 80 cents of every dollar earned by a woman goes into education, healthcare and housing for her children. We believe that when one woman succeeds, we all do. That's why we invest to make a difference in the lives of women we may never meet. And that's why we work with young men and women who are rising up into positions of leadership, to support them to realize personal and professional progress.
How We Support
Unconscious bias is real. We like to support community conversations that help audiences understand the barriers and identify ways to create more inclusive processes and work environments. In recent years we co-created a tour with Nelson Mandela's grandson, Siyabulela Mandela, about diversity, and truth and reconciliation. We sponsored events like 50 Shades of Beige to help New Brunswickers embrace a more culturally diverse society. We sponsored tickets for youth to hear President Obama discuss the importance of community engagement. And we continue to give to the work of Women for 50%, an organization that raises awareness about the need for more women in politics.
We support the world-renowned Coady International Institute through scholarships for women in their indigenous leaders program. We fund an award for young entrepreneurs through the University of New Brunswick. Through Kiva, we've supported over 250 micro loans for female entrepreneurs in developing countries. And locally, we give to charities through financial donations and pro bono work. The following organizations have benefited from GlassSKY's support: BeeMeKidz, Big Brothers / Big Sisters, Women's Empowerment Network, Power of the Purse, Elizabeth Fry Society, Women for 50%, YWCA. We regularly sponsor tickets for university students to attend business luncheons so they can network with established leaders, and hear high-profile speakers.
Free Resources
We are passionate about understanding attitudes and trends surrounding next-generation leaders and helping employers evolve to embrace greater diversity. We regularly conduct research on women in leadership, Millennials and Gen Z. You can find free downloadable reports below.
Learn more by watching our video.
SOAR – Stories of Remarkable Women – This GlassSKY e-book is filled with inspiring stories, practical discussion guides and exercises to help our future leaders think about their own journeys. There are global activists, an Olympian, music icon, entrepreneur, and trailblazers in the fields of STEM. click here.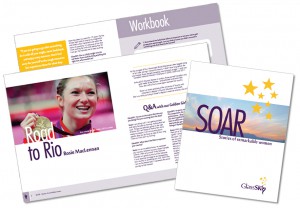 The Adolescent Girl – For a free downloadable report on our latest topic, in support of the United Nation's International Day of the Girl, click here.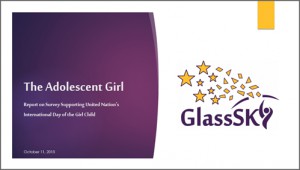 The Empowered Woman – While our first survey was open to both men and women, we are focusing our second survey on just female respondents. If you are a woman who wants to help our cause and influence the programs we offer, please take a few minutes to fill out this survey, The Empowered Woman.
Mean Girls? – Click here for our interview with Dr. Marnina Gonick, Canada Research Chair in Gender at Mount St. Vincent University.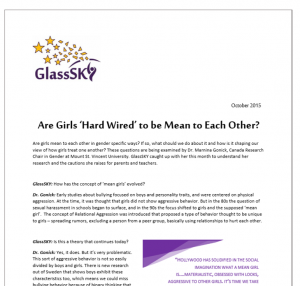 Economic Empowerment for Young Women – Click here for our Case Study on Ventura County, California's Economic Empowerment Event for Young Women.