We are passionate about understanding attitudes and trends surrounding next-generation leaders and helping employers evolve to embrace greater diversity.
We regularly conduct research on women in leadership, Millennials and Gen Z. You can find free downloadable reports here, and get in touch with us to learn about our latest surveys. We currently have research underway on inter-generational differences in the workplace and women in politics.
We also conduct focus groups for organizations that want to learn more about their employees' expectations and preferences so they can reduce turnover and harness their full potential. We are happy to offer you case studies and discuss ways we can help your organization retain top talent.
Listening in the right way can be powerful. For International Day of the Girl in 2018 we asked young girls to tell us what they need to fulfill their potential.
SOAR – Stories of Remarkable Women – This GlassSKY e-book is filled with inspiring stories, practical discussion guides and exercises to help our future leaders think about their own journeys. There are global activists, an Olympian, music icon, entrepreneur, and trailblazers in the fields of STEM. click here.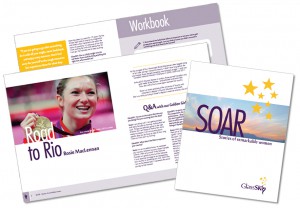 The Adolescent Girl – For a free downloadable report on our latest topic, in support of the United Nation's International Day of the Girl, click here.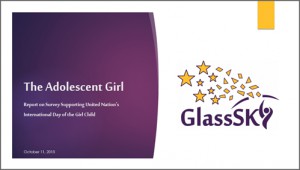 The Empowered Woman – While our first survey was open to both men and women, we are focusing our second survey on just female respondents. If you are a woman who wants to help our cause and influence the programs we offer, please take a few minutes to fill out this survey, The Empowered Woman.
Mean Girls? – Click here for our interview with Dr. Marnina Gonick, Canada Research Chair in Gender at Mount St. Vincent University.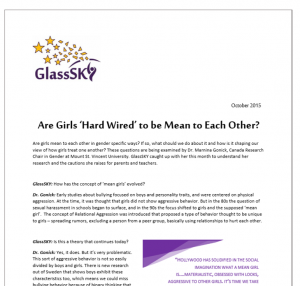 Economic Empowerment for Young Women – Click here for our Case Study on Ventura County, California's Economic Empowerment Event for Young Women.