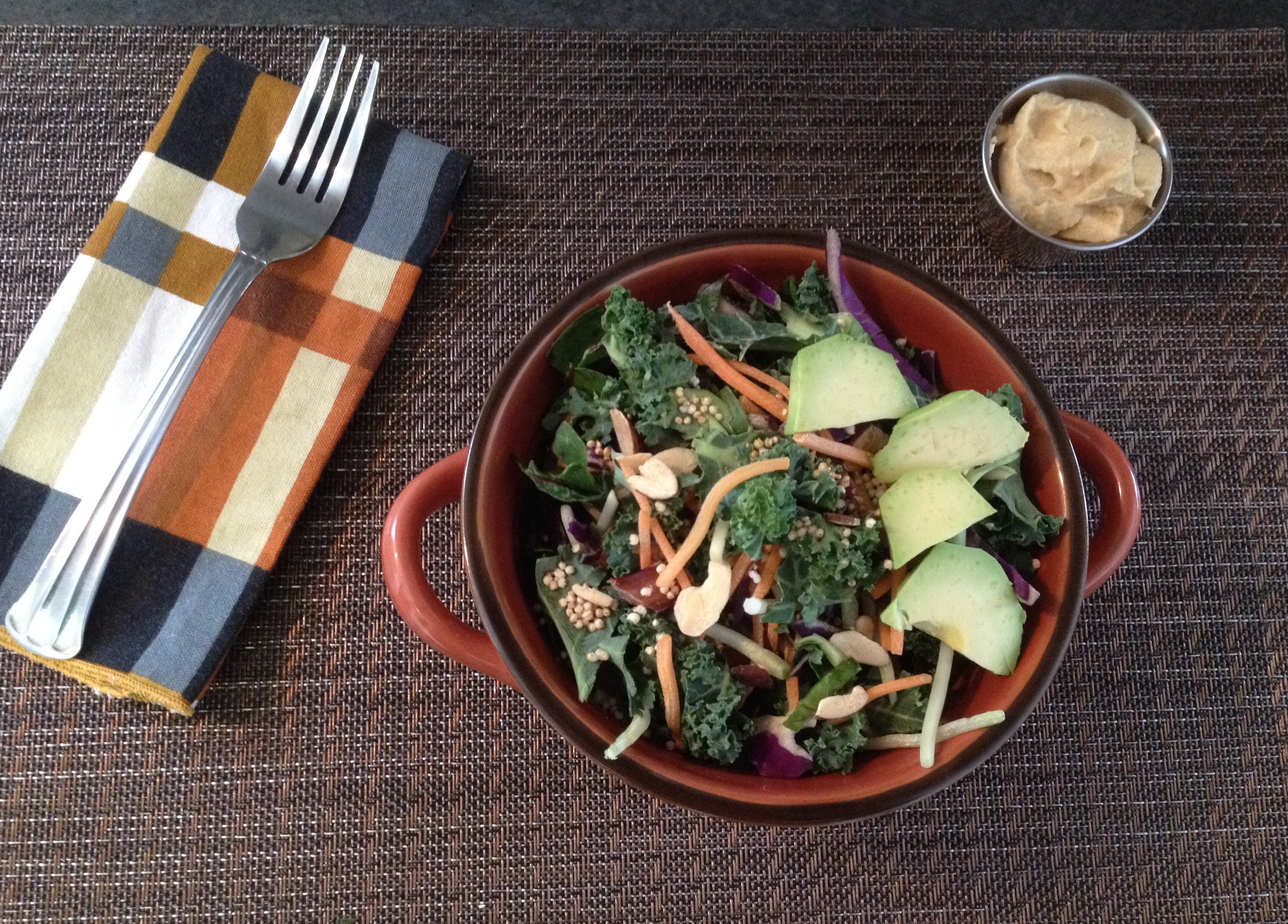 A Buddha Bowl is a one dish meal that is packed so full that it has a rounded belly appearance on the top much like the round belly of a Buddha. It is generally packed with nutrition and is very satisfying. A Buddha Bowl meal is unlike our typical hurried meals we normally serve. When feasting on a Buddha Bowl, we are to take our time and mindfully enjoy the food, the flavors, and the whole experience of the meal. One is also to savor this meal with deep gratitude.
Need some tips on how to prepare your own Buddha Bowl?
First, you must choose a special bowl that you will be using for this meal preparation. Perhaps you own a sentimental bowl that was once grandma's that never gets used? Maybe you one time picked up a funky bowl you liked at a flea market but have yet to try it out? Choosing that special bowl is part of the whole mindful Buddha Bowl experience.
Your Buddha Bowl meal should consist of a variety of veggies, a grain, healthy fats and vegetarian protein (no meats or cheese).
Your veggies can be roasted or cold/raw. You can combine the hot and cold. Just ensure that the hot are placed on the bottom and the cold are placed over them.
Your favorite sauce or dressing will be the topping for your gourmet meal. Hummus, Tahini, Thai Peanut Sauce, and Creamy Ginger Sauce are all superb toppings that make a perfect Buddha Bowl complete. Be creative! Whip up your own dressing with your favorite vinegars, herbs, and garlic.
Instead of using a bowl, some people spread the ingredients all out singularly on a plate. The intention behind the Buddha Bowl is to layer-blending the flavors and textures together.
The following is only a recommendation on layering your ingredients in your Buddha Bowl:
Greens (bottom)
Veggies
Grain
Beans
Nuts and seeds
Dressing (top)
Various suggested ingredients to use in your Buddha Bowl:
Greens: kale, spinach
Veggies (roasted or raw): carrots, peppers, mushrooms, sweet potatoes, etc.
Grains: brown rice, quinoa, couscous
Proteins: tofu, chickpeas, beans
Healthy fats: avocado, almonds, cashews, sunflower seeds
When meal planning, Buddha Bowls can be tailored to suit any budget. Why not plan a Buddha Bowl night for you and your family? Allow your kids to choose their special bowl along with their favorite ingredients. To change things up and to add a little fun to the experience, be sure to include chopsticks for everyone!
There is no real recipe for preparing a Buddha Bowl. As you enjoy yours, be sure to create with mindfulness and to savor with gratitude.
If you decide to give the Buddha Bowl a try and would like to share your experience, please feel free to leave a comment. You may also email me at jennifer.doherty@GlassSKY.org.