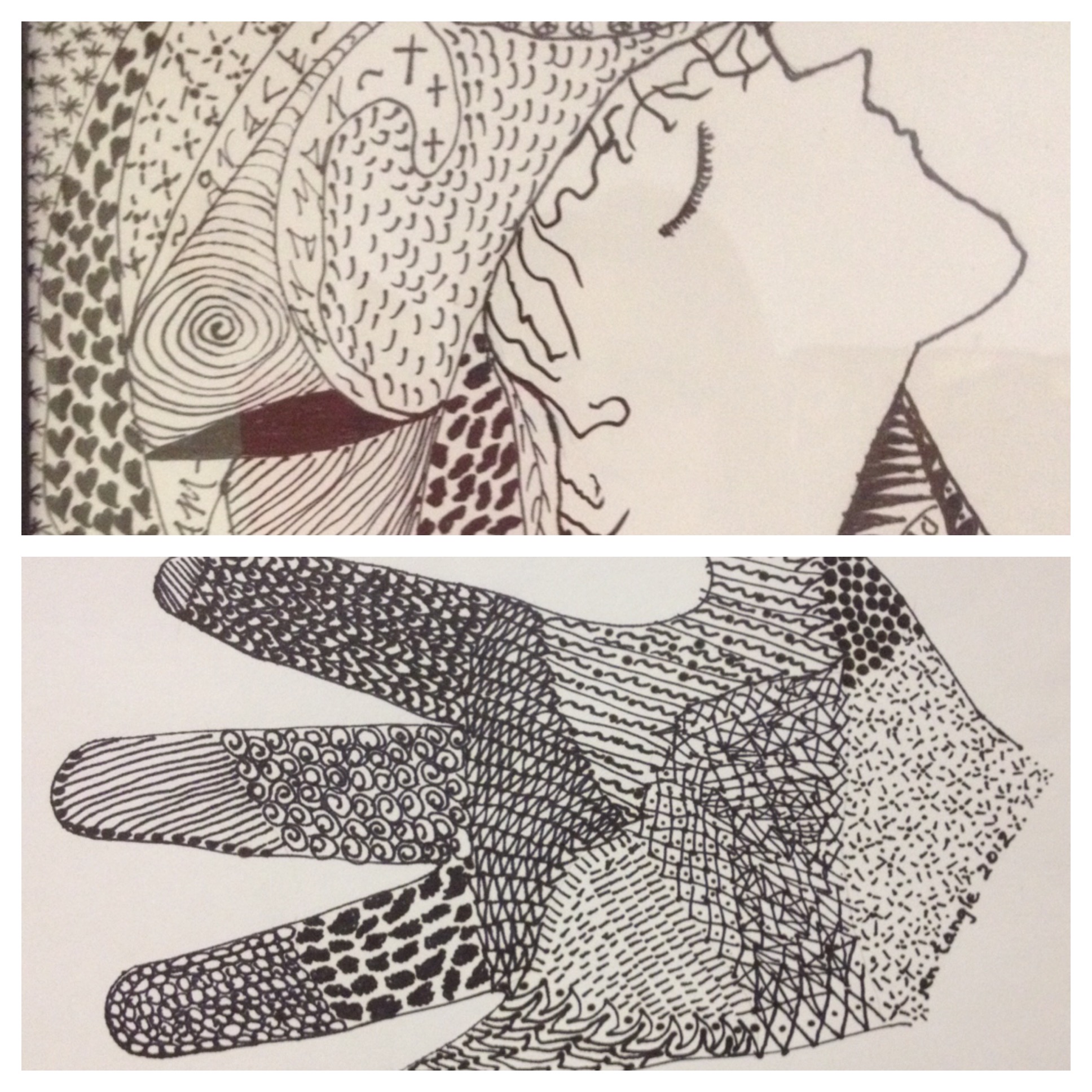 What is Zentangle? Have you ever tried meditating? Do you often times find yourself giving up in doing so as you are unable to remain focused? Zentangle is a form of artistic meditation that is possible for everyone!
A Zentangle is an abstract drawing created by using repetitive patterns or "tangles" such as dots or squiggles. Your creation may have one tangle or multiple tangles. It is important to use a black pen or marker on white paper. Tools that are not permitted when creating this form of art are colored markers, colored paper and an eraser. There is no such thing as a mistake in Zentangle. With any mark that is made, you just go with it! A true Zentangle should be created on a 3.5 inch square tile. However, I have created my own "Jen"tangles in various forms such as poster size, painting on rocks, and have included it in my journaling.
How does tangling differ from the regular doodling? When you are doodling, perhaps during class or a meeting, you aren't really completely focused on that doodling. Also, part of your doodling process was planned. Your intention was to decorate your initials on that notebook or whatever your doodling may be. As you doodle, you are still listening to the presenter at the front of the room. Or…you're deep in thought, trying to decide what you can have for dinner when you finally get to go home.
Unlike doodling, Zentangling is unplanned. It requires your utmost focus. It is best to create your Zentangle in a quiet space without any distractions. Turn off the television and put on some nice soft background music. If you prefer, just sit in silence as you begin the process. Relax, try to stay focused as much as possible and just start drawing. Initially, you will struggle on trying to remain focused. Just keep coming back to it. Drawing in the beginning will feel awkward. Just let it go and allow the patterns or tangles to reveal themselves. Over time, it will become easier for you. Whenever I have become lost in the art of Zentangle, I am always surprised by the end result. I believe that it is soulfully due to the fact that no part of it was ever planned.
Zentangle is often implemented in therapeutic settings in the following ways:
Develops/Rehabilitates fine motor skills
Helps build eye/hand coordination
Anger management (an outlet to find relief and calmness)
Addictions (a release from part of your life holding you captive)
Zentangle can benefit you at home in the following ways:
Inspiration (opens your mind to creativity in writing or other art projects)
Insomnia (releases negative thoughts/energy)
Relieves stress! (calming, relaxing)
Improves your self esteem (gives feeling of pride and accomplishment)
Deeper meditation practice (provides clearer focus and gains greater insight of oneself)
I hope that you will give Zentangle a try! You cannot fail in this form of art. As with any other great artist, you will soon discover your own personal flair. You will sure to be surprised at the masterpiece you have created.